Castles in County Carlow, Republic of Ireland.
---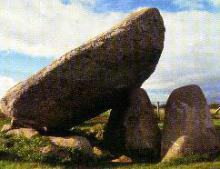 Dolmens, Brown Hill Dolmen, County Carlow
County Carlow is situated in the South East of Ireland, with County Wicklow and County Wexford to the East, County Kildare to the North and County Laois and County Kildare to the West.
Carlow is also one of Ireland's smallest counties, is bordered by the scenic Blackstairs Mountains to the east. The fertile limestone land of the Barrow Valley and the Killeshin Hills lie in the west of Carlow.
The county's most prominent feature is the 5000-year-old granite formation known as Browne's Hill Dolmen. It's believed to have the largest capstone in Europe, weighing a colossal 100 tonnes.
Carlow Town, Borris and Tullow, County Carlow
Located on the banks of the River Barrow, Carlow town is a bustling market centre serving a large rural area. One of the most impressive pieces of architecture in the town has a very interesting background; it is believed that the courthouse on Carlow Street, modelled on the Parthenon in Athens, was originally meant for Cork, but the plans for the two buildings became mixed up.
Other towns worth seeing include the Georgian village of Borris, and the small angling town of Tullow on the River Slaney.
Historic attractions in the county include Carlow Castle, Dolmens, Castletown Castle, Clonegal Castle, The Black castle at Leighlinbridge, Rathnageeragh Castle, Ballymoon Castle, Leighlinbridge Castle, Ballyloughan Castle, Clonmore Castle And High Crosses.


Castles in County Carlow
Click For List of all Ireland Counties
Where to stay and things to do in County Carlow
Hotels | Places to Visit | Castles |
County Links
Republic of Ireland
County Carlow | County Cavan | County Clare | County Cork | County Donegal | County Dublin | County Galway | County Kerry | County Kildare | County Kilkenny | County Laois | County Leitrim | County Limerick | County Longford | County Louth | County Mayo | County Meath | County Offaly | County Roscommon | County Sligo | County Tipperary | County Waterford | County Westmeath | County Wexford | County Wicklow | Dublin City |
Northern Ireland
Belfast | County Antrim | County Armagh | County Coleraine | County Down | County Fermanagh | County Londonderry | County Monaghan | County Omagh | County Tyrone | Derry City |