Hotels in County Clare, Republic of Ireland.
---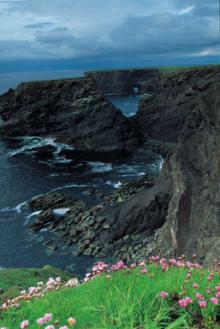 County Clare Coastline
County Clare is situated on the rugged west coast of Ireland with County Galway to the north, County Tipperary to the east and the counties of Limerick and Kerry to the South.
To the north of the county, the rugged Atlantic coast rises nearly 700 feet above the sea in the shape of the Cliffs of Moher. A couple of miles away, you'll find an amazing Karst limestone region called the Burren, which features caves, underground streams and rare alpine flora. The area also has plenty of fascinating archaeological sites, including the 5000-year-old Poulnabrone Dolmen. Why not explore this beautiful area by taking a rail tour?
Charming villages like Doolin, Fanore and Ennistymon are famed for their traditional music sessions. Clare is an ideal destination for those in search of the outdoors; sea, lake and river fishing, walking and cycling and of course golfing are all popular activities in the county.
Clare's principal town is Ennis, a busy market centre on the River Fergus. Its famous narrow streets are dotted with a host of unusual shops, bars and restaurants. Ennis is regarded as the heartland of Irish music; look out for superb nightly sessions, as well as some very lively annual festivals.
Ennis is an ideal centre for touring around County Clare. Whether you'd like to banquet at 15th century Bunratty Castle, visit the delightful lakes of East Clare or explore the isolated loop head coastline, everything is a short drive from Ennis.
Bunratty Castle, ireland's premier visitor attraction is located in County Clare. The Castle is the most complete and authentic medieval fortress in Ireland. Built in 1425 it was restored in 1954 to its former medieval splendour. It now contains mainly 15th and 16th century furnishings, tapestries, and works of art which capture the mood of the times. You can marvel at the finest collection of medieval furniture in the country, which brings to life a vital part of our Celtic. At night time the castle is the impressive setting for medieval banquets which are held year round
Historic attractions in this county include:- Bunratty Castle, Carrigaholt, De valera Monument, Burrne heritage Centres, Killaloe Cathedral and Churches and many others besides


Hotels in County Clare
Click For List of all Ireland Counties
Where to stay and things to do in County Clare
Hotels | Bed and Breakfast | Places to Visit | Castles | Railways | Weddings and Conferences | Heritage Centres |
County Links
Republic of Ireland
County Carlow | County Cavan | County Clare | County Cork | County Donegal | County Dublin | County Galway | County Kerry | County Kildare | County Kilkenny | County Laois | County Leitrim | County Limerick | County Longford | County Louth | County Mayo | County Meath | County Offaly | County Roscommon | County Sligo | County Tipperary | County Waterford | County Westmeath | County Wexford | County Wicklow | Dublin City |
Northern Ireland
Belfast | County Antrim | County Armagh | County Coleraine | County Down | County Fermanagh | County Londonderry | County Monaghan | County Omagh | County Tyrone | Derry City |