Places to Visit in Rathdrum, County Wicklow, Republic of Ireland
---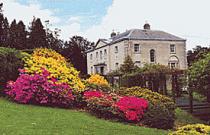 Avondale House
Rathdrum
County Wicklow
Tel: +353 (0)404 46111
Fax: +353 (0)404 46111


Avondale House is set in an estate of 500 acres of forest and parkland along the west bank of the Avonmore River. Built in 1779 by Samuel Hayes, a barrister, who represented Wicklow in the Irish House of Commons, Avondale passed to the Parnell family in 1795, and it was at Avondale on 27th June 1846 that one of the greatest political leaders of modern Irish history, Charles Stewart Parnell, was born.
Avondale House is now a museum to his memory, and a major refurbishment programme has restored much of the House to its decor of 1850. Parnell spent much of his time at Avondale until his death in October 1891.
Avondale House is synonymous with the birth of Irish Forestry. The state purchased Avondale in 1904 and it was at Avondale that the first silvicultural experiment plots were laid out; along the lines of a continental forest garden. These plots generally one acre in extent can be seen today, flanking the magnificent Great Ride, which provides probably the most beautiful of Avondale's many walks.
Avondale too is rich in wildlife and as you stroll through the woods of Avondale watch out for many of the creatures which live there, the squirrel, the badger, the hare and the rabbit. Along the river walk one might spot the otter playing away on the muddy banks. The calls and songs from the trees above are no doubt coming from some of the ninety different bird species which have been spotted in Avondale.
Avondale House is open mid March to October 31st daily. Visitors are introduced to Avondale by way of a specially commissioned video, which describes the life of "Parnell of Avondale".
Avondale also offers a unique venue for business meetings, conferences and corporate functions and entertainment.
Only one hour from Dublin, Avondale has to be the most peaceful and tranquil setting for business or pleasure – where history and beauty blend for the perfect day out.
Facilities
Historic House, Gardens, Restaurant, Tea Room, Picnic Area, Car Park, Private Group Tours, School Tours Available, Restaurant (wine licence)
serving morning coffee,
light lunches
gift shops, tree trails.
In case of alteration, please check prices, opening times and any specific important information before booking or visiting