County Wexford, Republic of Ireland
---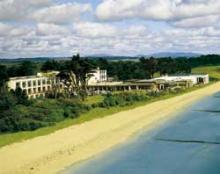 Kellys Resort Hotel at Rosslare
The county of Wexford sits in the South East of Ireland with the counties of Wicklow, Carlow, Kilkenny and Waterford as its neighbours.
The county is famous for its glorious sandy coastline and together with County Waterford is known as 'The Sunny South East' which makes it a popular holiday destination for the Irish and those beyond. You can visit he oldest lighthouse in Europe which stands on the Hook Peninsula and you can imbibe in a pint of Guinness with the locals in the pubs nearby.
As in many parts of Ireland, there are an abundance of golf courses whilst mountaineering, hill walking, fishing and riding are all popular pastimes in this county.
There is an annual Opera festival in Wexford Town every Autumn and at New Ross you can visit The John F. Jennedy Arboretum or see the ancestral home of JFK, Bobby and Ted Kennedy.
Heritage sites and historic attractions worth visiting:- The Irish National Heritage Park at Ferrycarrig, Dunbrody Abbey and Visitor Centre at Campile, Abercromby Monument at Carrigdaggin, Westgate Heritage Tower, The Wexford Wildfowl Reserve in Wexford, Tintern Abbey in New Ross, Ballyhack Castle in Ballyhack.
Where to stay and things to do in County Wexford
Hotels | Bed and Breakfast | Places to Visit | Castles | National Parks | Weddings and Conferences | Abbeys and Priories | Tourist Information Centres | County Wexford Towns
Selected County Wexford hotels - Please Refresh for another random Hotel list
Kelly's Resort Hotel, Rosslare
Brandon House Hotel Health Club & Spa, New Ross
Cedar Lodge Hotel & Restaurant, New Ross
Woodlands Country House, Gorey
Hotel Rosslare, Rosslare
The Riverbank House Hotel, Wexford
Creacon Lodge Hotel, New Ross
Brandon House Hotel & Health Club & Spa, New Ross
Cedar Lodge Hotel, Newbawn
Quality Hotel Wexford, Wexford Town

Click For List of all Ireland Counties
Explore County Wexford Towns
Ballyhack, | Enniscorthy | Ferns | Ferrycarrig | Gorey | Kinnegad | New Ross | Newbawn | Rosslare | Wexford | Wexford Town |
County Wexford Tourist Information Centres
Wexford Tourist Information Centre
County Wexford Tourism
No. 8a Westgate
Wexford
County Wexford
Ireland
Tel: +44 (0) 53 52900

Crescent Quay Tourist Information Centre
Wexford
Tel: +44 (0) 53 23111

Enniscorthy Tourist Information Centre
Enniscorthy
County Wexford
Ireland
Tel: +44 (0) 54 34699

North Wexford Tourist Information Centre
North Wexford Tourism
Enniscorthy
County Wexford
Ireland
Tel: +44 (0) 55 2124

Rosslare Tourist Information Centre
Rosslare Tourism
Kilrane
Rosslare Harbour
County Wexford
Ireland
Tel: +44 (0) 53 33232.

County Links
Republic of Ireland
County Carlow | County Cavan | County Clare | County Cork | County Donegal | County Dublin | County Galway | County Kerry | County Kildare | County Kilkenny | County Laois | County Leitrim | County Limerick | County Longford | County Louth | County Mayo | County Meath | County Offaly | County Roscommon | County Sligo | County Tipperary | County Waterford | County Westmeath | County Wexford | County Wicklow | Dublin City |
Northern Ireland
Belfast | County Antrim | County Armagh | County Coleraine | County Down | County Fermanagh | County Londonderry | County Monaghan | County Omagh | County Tyrone | Derry City |