Gardens Ireland
---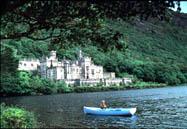 Kylemore Abbey and Garden, Connemara
The counties that make up the Republic of Ireland and Northern Ireland have a long and colourful history with a wealth of Historic Houses and Castles, Heritage Sites and Ruins, National Heritage Parks and Gardens, Museums and Galleries and a myriad of Irish attractions including - Abbeys, Churches, Friaries, Caves, Forts, Stone Age Monuments, Distilleries, Mills, Historic Towns and Cities and Areas of Outstanding Natural Beauty.
Within these pages we have included many of the above attractions with more being added weekly. I hope you find the web site informative and, during your journey of discovery, if we can do anything to ensure your visit is a success then please email helpline@historic-ireland.com with your query in the subject box and we will do our utmost to point you in the right direction.
Finally, thank you for your visit, please bookmark the page for yourself or friends and please mention the HISTORIC IRELAND web site if you contact anyone directly.
Gardens by County
Gardens in Republic of Ireland
County Cavan | County Donegal | County Dublin | County Kerry | County Mayo | County Offaly | County Wicklow |
County Links
Republic of Ireland
County Carlow | County Cavan | County Clare | County Cork | County Donegal | County Dublin | County Galway | County Kerry | County Kildare | County Kilkenny | County Laois | County Leitrim | County Limerick | County Longford | County Louth | County Mayo | County Meath | County Offaly | County Roscommon | County Sligo | County Tipperary | County Waterford | County Westmeath | County Wexford | County Wicklow | Dublin City |
Northern Ireland
Belfast | County Antrim | County Armagh | County Coleraine | County Down | County Fermanagh | County Londonderry | County Monaghan | County Omagh | County Tyrone | Derry City |